How to Set Your Flatware Properly
By Natalie Gitt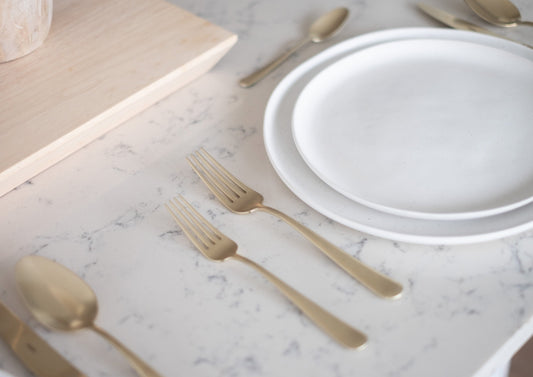 Setting your flatware a certain way sets the tone of your meal, acting as an unspoken prompt for the formality of your time at the dinner table. There are some basic rules to always follow to ensure you set your flatware properly.
About 90 percent of individuals are right-handed, so forks are set on the left side of the plate. Each utensil should be roughly an inch from the side of the dinner plate, and should be aligned with the bottom rim of the plate. The plate itself should be approximately one inch above the edge of the table.
Is your head spinning yet? There's a lot to take in, but the general rule of thumb is to work from the outside in with your flatware. Start there, and we'll tell you everything else that you need to know.
Essential Flatware Items
When you go to a really fancy dinner, there is often a utensil for everything— including a fruit spoon and asparagus fork. Today, the standard Flatware Set is typically comprised of five items:
A dinner knife
Two forks: one for salad or dessert, and the other for dinner
Two spoons: one for soup and a smaller one for coffee, tea, or breakfast cereal.
Let's start with these five essential flatware items to better understand what utensils you need to set a proper table setting.
The Deal with Forks
The dinner fork is arguably the most crucial utensil out there. It is the longest fork in a flatware set, and it's used to enjoy the main course of your meal. This fork makes an appearance in the same location at both formal and informal gatherings around your dining table.
The salad fork is used to enjoy a salad served separately from the main course, whether before or after. This style of fork may also be used as a dessert fork, depending on when dessert and salad are served with your main course. The salad fork's location on the table varies depending on how formal your meal is.
What You Need to Know about Spoons
There are two spoons of different sizes that come in the standard Flatware Set.
The larger spoon is known as a soup spoon. This spoon is not always included in a table setting, depending on whether soup is being enjoyed with the meal. This larger spoon can be utilized for other foods as well, such as for eating cereal from your designated Cereal Bowl.
The smaller spoon of the two is typically used for coffee or tea that is served with dessert. It can also be used as a dessert spoon.
The Role of Knives
In a standard Flatware Set, only one knife is used to enjoy the main course. Depending on what you're serving with your main course, you may want to offer a second knife to your guests. For example, if you are having a steak for dinner, you may want to include a steak knife in your table setting.
The Casual Table Setting
The casual table setting is one that you throw together after a long day at work. It's the perfect setting for eating on your own or with your partner on a busy evening.
To set your table casually, set your plate or bowl onto the table. You don't need a placemat in this instance, but that is completely up to you. Place your folded napkin on top of the plate; this is where your flatware will rest.
In this table setting, you won't need too many utensils. Place your dinner fork on the far left of the napkin. Your knife should be placed on the right side of the napkin, with the blade facing in towards the fork. If you feel the need to include a soup spoon, place this to the right of your knife.
This is a great way to enjoy your meal and make your table feel put together without worrying about extra, unnecessary utensils.
The Everyday Table Setting
The everyday table setting is a slight step up from the casual setting. This setting requires the same flatware; the difference is the placement of the utensils.
Your plate will sit in the center of the place setting. To the left of the Dinner Plate, place your dinner fork. To the right of your plate, place your knife with the blade facing inwards towards the plate, then place the spoon to the right of your knife.
If you would like to use a napkin ring, which is optional for your everyday table setting, your napkin should rest gently on top of the plate within the ring.
The Formal Table Setting
Setting your table for a formal occasion is quite fun. Your table will look elegant and carefully curated, which your guests will appreciate. Plus, it doesn't need to be a formal occasion to set your flatware formally. Sometimes, it can be fun to do this on a random Wednesday night to make it feel just a little more special.
The dinner plate is the grounding object of the formal table setting. To the left of the plate, you will have your dinner fork and your salad fork. Given that you are to work from the outside inwards, your salad fork should be placed outside, meaning your dinner fork will be to the right of it, between the salad fork and the dinner plate.
Place your knife directly to the right of the plate with the blade facing inwards. To the right of your knife is where you will then place your soup spoon. Your soup spoon should be on the outer edge of your place setting.
Above your dinner plate is where you will horizontally place your dessert spoon. The spoon's handle should be on the right side, with the spoon's head closest to your forks. Depending on what you are serving for dessert, you may also want to include a dessert fork. Your dessert fork will rest above your dessert spoon, facing the other direction to create a beautiful kind of symmetry.
Next, place your beautifully folded napkin on top of your dinner plate. Other items that you may want to include in your formal table setting include wine glasses, water glasses, name cards, and a bread and butter plate and knife.
Flatware Materials to Keep in Mind
Flatware is made from one of three materials: sterling silver, silver-plated, and stainless steel. Sterling silver is recognized by a specific stamp and is extremely strong given its ratio of approximately 92.5 percent pure silver and 7.5 percent copper.
Silver-plated cutlery is less expensive than sterling silver, and is usually made with a nickel or copper base that is then plated with silver. While these styles are both beautiful, they do require regular polishing and maintenance, so that's something to keep in mind when making your decision.
On the other hand, stainless steel is wonderfully low maintenance and the most common choice when it comes to flatware. It's practical for everyday use, but beautiful enough that it fits right in on a formal table.
Whichever style you select, look for flatware with a small amount of weight to it that rests nicely in your hands. The appearance of your flatware comes down to personal preference. We recommend aiming for simple flatware that doesn't draw too much attention to itself, other than for its simplistic beauty.
When you decide to polish your flatware and remove tarnish, make sure to use a proper silverware cleaner, and never polish too hard or too frequently. We also recommend not loading too many pieces of cutlery into one basket in your dishwasher.
How Many Sets to Choose
A great place to start is with a set of four. The ideal number is to have eight to twelve of each piece of flatware, even though you most likely won't need them all the time. Having a larger amount ensures that you have all of the flatware needed to host family and friends for meals. It also allows you to put cutlery in the dishwasher one evening and still have clean flatware the next day.
Go Forth and Set the Table
Don't be surprised if your guests look to follow your lead. It's often considered polite for the host to take the first bite, so your guests may wait for you to do so. You may also notice that your guests look to you to see which piece of flatware to use—because you're the expert. Sometimes people don't know which utensil is to be used for each food, especially when you're hosting a fancy dinner party.
You now know how to successfully set your flatware properly. Next time your friends and family come over, you can impress them with your newly acquired skills. Let's get setting!
Sources:
The left brain knows what the right hand is doing | apa.org
How to clean silverware and remove tarnish at home | Today
What is sterling silver and how does it is different from real | antiquesilver.org