Why Portugal is Known for its Dinnerware
By Natalie Gitt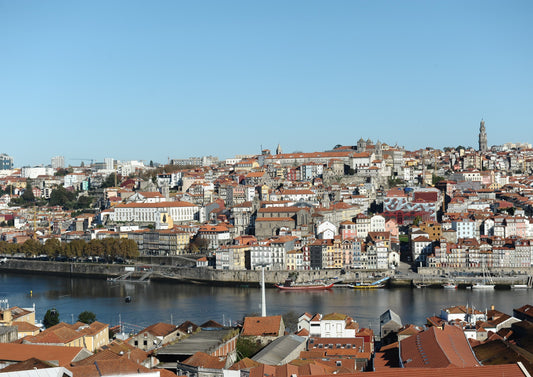 The Portuguese have been creating ceramic dinnerware for a very long time. There is an abundance of clay in Portugal, and they have been working with it since prehistoric times.
Since original dinnerware was made from clay, the Portuguese have only continued to perfect this craft. There are many different forms of pottery, terracotta pots, plates, and cooking dishes from Portugal that are exported on a worldwide scale.
We will dive further into why Portugal is known for dinnerware and why Fable chooses to craft our ceramics there.
Center of Pottery
Portugal is one of the global centers for pottery because of the vast amount of quality clay found there.
In the 17th century, Portugal was hit by an earthquake that caused mass damage across the country. To rebuild its economy, ceramicists began experimenting with new methods and designs.
One of the main places in Portugal known for its pottery is Caldas da Rainha. This city is just north of Lisbon and is renowned for the abundance of clay in its soil, making it the unofficial center of pottery in Portugal. The Portuguese turned this clay into unique ceramics.
In 1884, Rafael Bordalo Pinheiro opened a ceramics factory, which is why the town became so famous. His artistic ceramics stood out from the crowd, and he was awarded the gold medal in international exhibitions.
The ceramic pieces made in Caldas da Rainha by Rafael Bordallo Pinheiro and other ceramists came in two different types: decorative pieces and kitchenware.
Whether the pieces were decorative or kitchenware, the artists used colors inspired by nature. Some pieces have green leaves, fruit, or seafood featured on them. The soup tureen in the shape of cabbage is one of the most well-known ceramic styles from the city. This traditional piece is still being made today and is usually described as "louça das Caldas."
Fable searched for the perfect dinnerware partner in Portugal since it is a place steeped in ceramic traditions. After traveling the country, Fable found makers who incorporate sustainable craft into every decision, from equal opportunity hiring practices to a focus on zero waste.
Popular Pottery Places in Portugal
There are several other regions in Portugal known for their ceramics.
Coimbra
Coimbra is in Northern Portugal near the River Mondego and is also a pottery-producing city. Coimbra ceramics have been around since the 16th century and traditionally use cobalt blue in monochrome tones. You can also typically find ceramics here that are yellow, green, and ochre. This art here has been praised throughout the world for centuries.
By the 17th century, Coimbra pottery began showing representations of Portuguese hunting scenes. You can often see many different animals decorating these ceramics. In Santa Clara in 1784, Domenico Vandelli founded the Rossio factory, which became renowned for making the finest and most elegant tableware in the area.
These pieces are extremely rare now, and pieces from the 16th, 17th, and 18th centuries are part of private collections and sell for huge sums at auctions.
Centro
The Black Pottery of the Centro region comes from Molelos, a town near Viseu. Here, ceramics are still being manufactured by the reduction cooking process. This process makes the pottery the color of black clay.
Nisa
The small village of Nisa is north of the Marvão mountains in the Alentejo. This town makes pots, water jugs, cups, and plates. You can see this pottery on display along the roadsides. They place the pottery outside as part of the final drying process before going into the ovens to be fired. It usually is made from red clay and painted with small shining dots.
These are just a few of the areas in Portugal known for their unique ceramics.
Portuguese Pottery Forms
Portuguese pottery comes in many different forms.
Homeware Pottery:

We can still find earthenware and stoneware being used in the daily culinary lives of Portuguese families and restaurants. There are many traditional terracotta pots, plates, and cooking dishes for sale in markets and shops. They have a rustic appearance. There is also a lot of fine porcelain and dinnerware with decorative designs.
Ceramic Figurines:

If you are looking for ceramic figurines, head to Northern Portugal to Barcelos. For centuries, local creators have used clay to portray aspects of daily life.
Portuguese Rooster:

Barcelos cockerel, also known as Portuguese roosters, are a famous ceramic piece. This figurine is colorful and has become one of the main symbols of Portugal.
Portuguese Tiles:

Portuguese ceramics have been used for decorating buildings and interiors for centuries. These decorative tiles are known as azulejos.
Since as early as the 13th century, the Portuguese used tiles to cover up the large areas of blank walls.
After the big earthquake, there was a shift from Manueline architecture to the Pombaline style in Lisbon. However, today you can see tiles being used as a dominant feature in every Portuguese city and village. They aren't just used on public buildings and homes, but also things like street signs, public benches, and along city walls.
A Ceramic Tradition
Portugal is rich in clay, making it the perfect place to produce all different types of ceramics, including dinnerware.
Portugal has been making ceramics for centuries, and its artists are world-renowned. The Portuguese mastered making plates and other kitchenware using different types of clay and varying techniques. As you explore the country, you will see ceramics used in many ways. They can be found on the outside and inside of buildings, as art, and, of course, in the kitchen.
Here at Fable, we believe that the details matter. Our ceramics are crafted and hand-finished on the central coast of Portugal, where they are durably crafted with intention. Our ceramicists are passionate, knowledgeable, and celebrate Portuguese traditions. Fable's timeless designs leave our products with a uniqueness that you can see and feel. Our dinnerware sets are one of a kind and will stand the test of time, and are designed to set your table magnificently for years to come.
Sources:
Caldas da Rainha | Travel In Portugal
Rafael Bordalo Pinheiro | Round plate with lobster | Portugal, Caldas de Rainha | The Metropolitan Museum of Art
The Economic Impact of the Lisbon 1755 Earthquake | York