Let's Get Back to (Small) Business
By Sasha Zeidler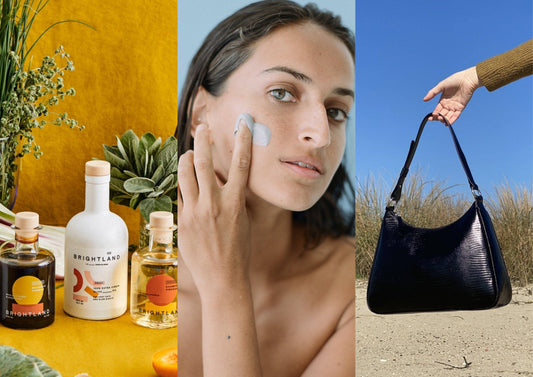 As Thanksgiving and Black Friday come and go, attention on major outlets fades, replaced with a focus on the small. For Small Business Saturday, we want to highlight small and local brands across the US that not only make quality products, but items that help the world.
When the recession hit in 2010, Small Business Saturday was established to aid small brands by encouraging local shopping post Black Friday. Since then, the senate has passed a resolution in support of the day and 50 states have been participating annually by promoting holiday shopping at small businesses.
It's impossible not to notice the overwhelming push to support your neighborhood coffee shops and take-out counters during the past year. We love our mid-week latte just as much as everyone else, but it's important to remember that local businesses also include consumer goods.
What attracts people to shopping locally is something that Fable has built itself on: the ability to take home something beautiful, while knowing it's doing good both for the earth and for the community. Over 65% of income made from small businesses remain in the community, promoting more business and a better retailer/consumer relationship.
So in the spirit of Small Business Saturday, we've made a list of some of our favorite local businesses across the US that make great products. Using natural ingredients, ethical practices and recycled materials, Brightland, LESSE and Hyer Goods are doing their part in making the world a better place, and creating some amazing products.
Brightland
California
Cooking should be FUN, and no one makes it as fun as Brightland.
Organic locally grown vinegars and oils are packaged in Brightland's signature vibrant bottles, making looking at the outside just as exciting as tasting what's inside.
Founded on the premise that the earth provides, Brightland was born trusting that what grows from the ground, naturally, is enough. And then some. These products have never seen labs or artificial preservatives, developed from start to finish in local family-owned farms.
While browsing products, ingredients are clearly listed with key flavor notes to make your choice a bit easier. Or harder, they all look so good! An easy to use gift guide also allows you to shop in various price ranges for bundles, minis and special products.
Tip: Make sure to click More Details+ in the product description for recipes, reviews, and suggested pairings.
LESSE
Los Angeles, CA
In the bustle of a busy life, certain things should be kept simple. Including the ingredients that make up your daily skincare ritual. LESSE skincare products are ethically produced, and contain ethically grown 100% organic ingredients that actually benefit your skin.
As gentle on the skin as it is on the environment, LESSE products are formulated to give you the best skin while also helping the planet. They provide full transparency on what's going on your face. Not only that, the ecological packaging is so sleek you'll want to get it just to show it off.
LESSE shines a strong focus on individuals from different backgrounds and lifestyles, often sharing stories highlighting people's unique perspectives and what rituals work for them.
Hyer Goods
New York
Hyer Goods knows upcycling fashion, and they're taking it a step further.
Using leather sourced from factory scraps, Hyer Goods is turning one brand's trash into high quality bags, wallets and accessories while eliminating landfill waste and factory footprint.
In addition to creating pieces that benefit the buyer and the earth, your purchase helps those in need. One percent of Hyer Goods sales support social and environmental organizations making a positive change.
Throw your upcycled leather wallet into your sustainable shoulder bag, but don't forget your mask! When Covid hit, Hyer Goods began producing masks with the same principles as their other products. Their Buy 1 Give 1 range donates a mask to someone in need when you purchase yours.
Browse their gift guides to find your perfect holiday present by price, personality and category.
Written by Sasha Zeidler