How to Care for Your Fable Ware
Our mission is to bring joy to your every meal, and that means frequent use of your products. These simple care tips will ensure your tableware lasts beautifully for years to come.
When You Receive Your Order
Congratulations—you're a Fable owner. First things first, we recommend handwashing your pieces with warm, soapy water to remove any dirt or debris left over from the shipping process.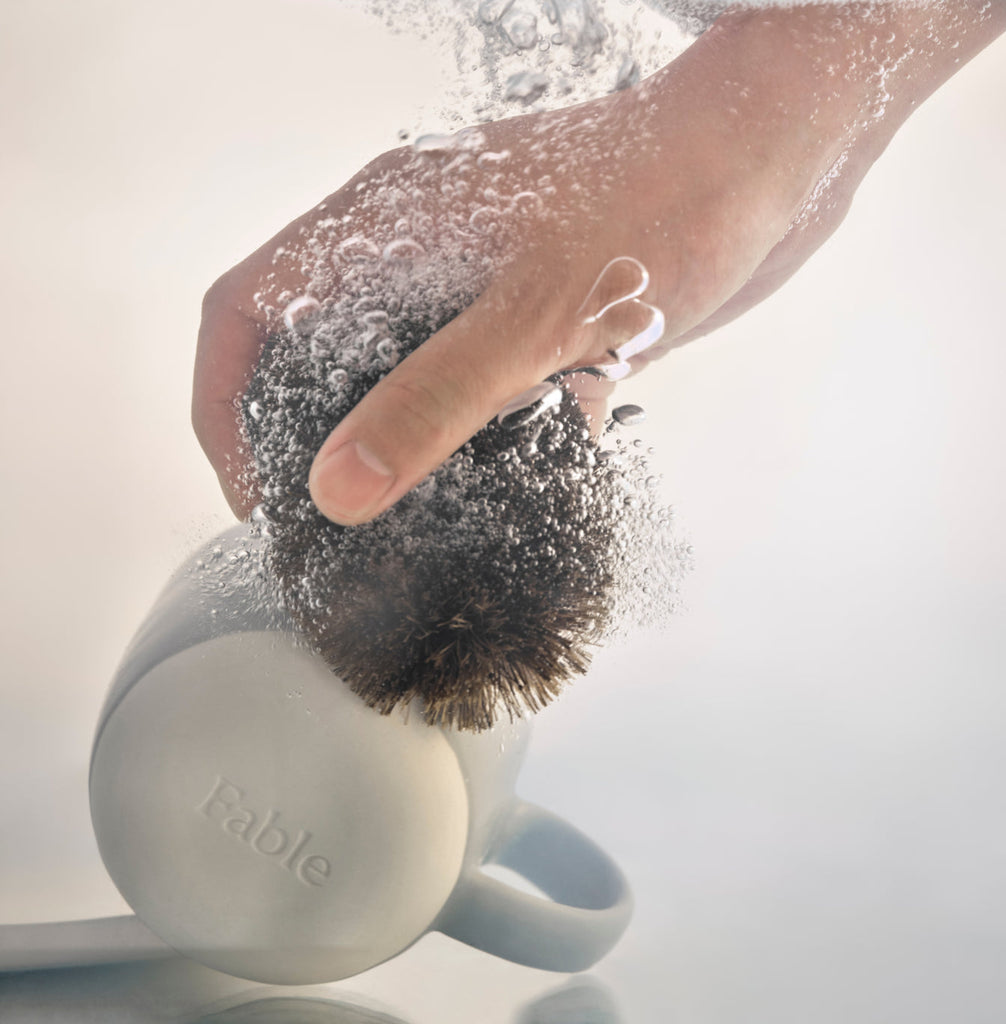 Ceramic Care
We don't want you to have to be too precious with your plates. That's why all our ceramics are dishwasher, microwave, and oven-safe (up to 450ºF). While all semi-matte ceramics are susceptible to superficial marks from your flatware, they can be taken off easily with our Tawashi Brush.
Pro tips
Our ceramics like a little space to themselves. Don't overfill your dishwasher as that may cause them to chip.
The bases of our ceramics are intentionally left unglazed—it is a design detail we hope you appreciate as much as we do. If they come into contact with substances that may stain, please clean quickly to avoid any long-term marks.
If you notice marks on your ceramics, use a scouring powder like Bar Keepers Friend to make a paste with water; lemon juice and baking soda will also work. Using a scrubber and the paste, scrub your ceramics thoroughly for a few seconds. After a soapy rinse, your dishes should be good as new.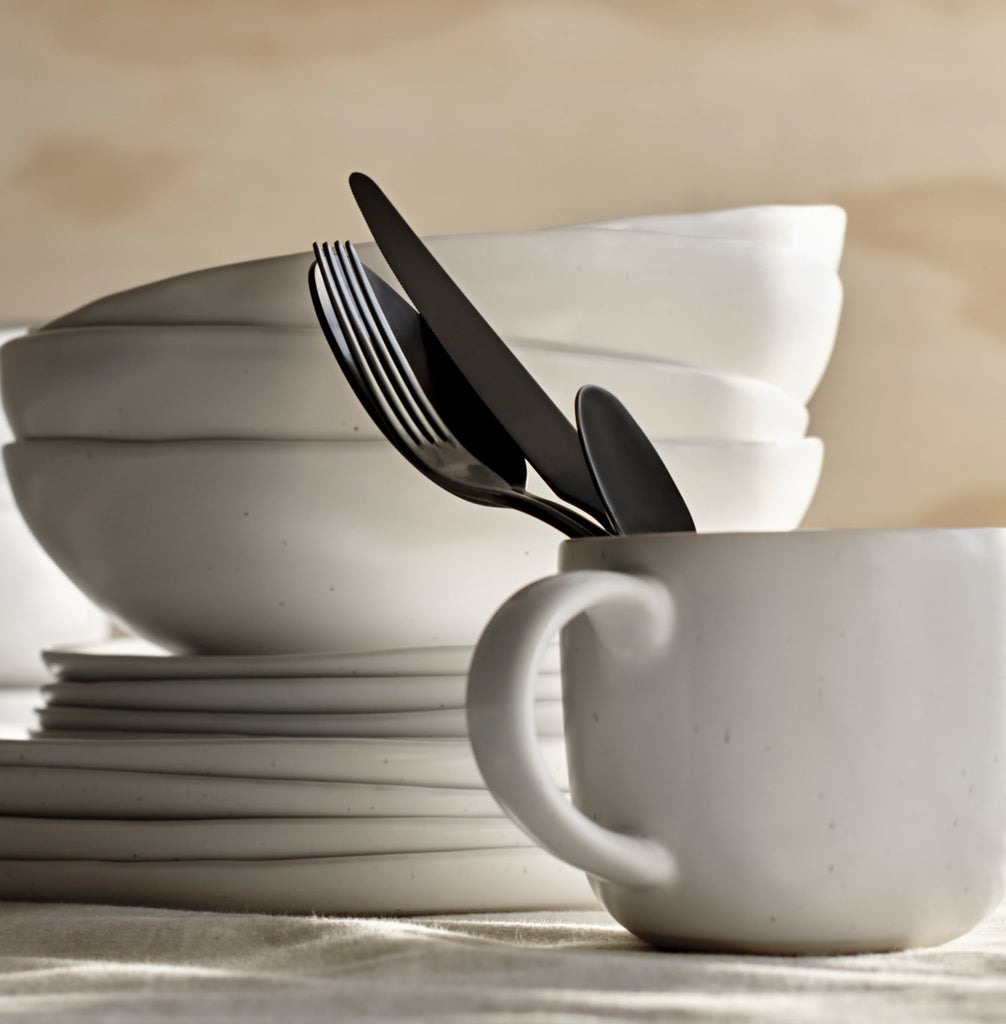 Flatware Care
Feel free to put your sparkling new stainless steel flatware directly into the dishwasher, or clean it by hand—you do you. We recommend washing your pieces right after use whenever possible, and always rinsing them before loading into the dishwasher.
Pro tips
If cleaning by hand, use hot water, a light detergent, and a soft sponge. Abrasive sponges or cloths are discouraged as they will irreversibly scratch the pieces. After washing, rinse and dry the flatware immediately with a soft cloth.
To avoid any damage that could be caused by clashing during dishwasher cycles, give pieces some space when loading into baskets. Always place handles facing down.
To help reduce water spots, try using a rinse aid or plain white vinegar in your dishwasher. Also, do not mix in other metals such as gold and silver—your stainless steel pieces like the spotlight all to themselves.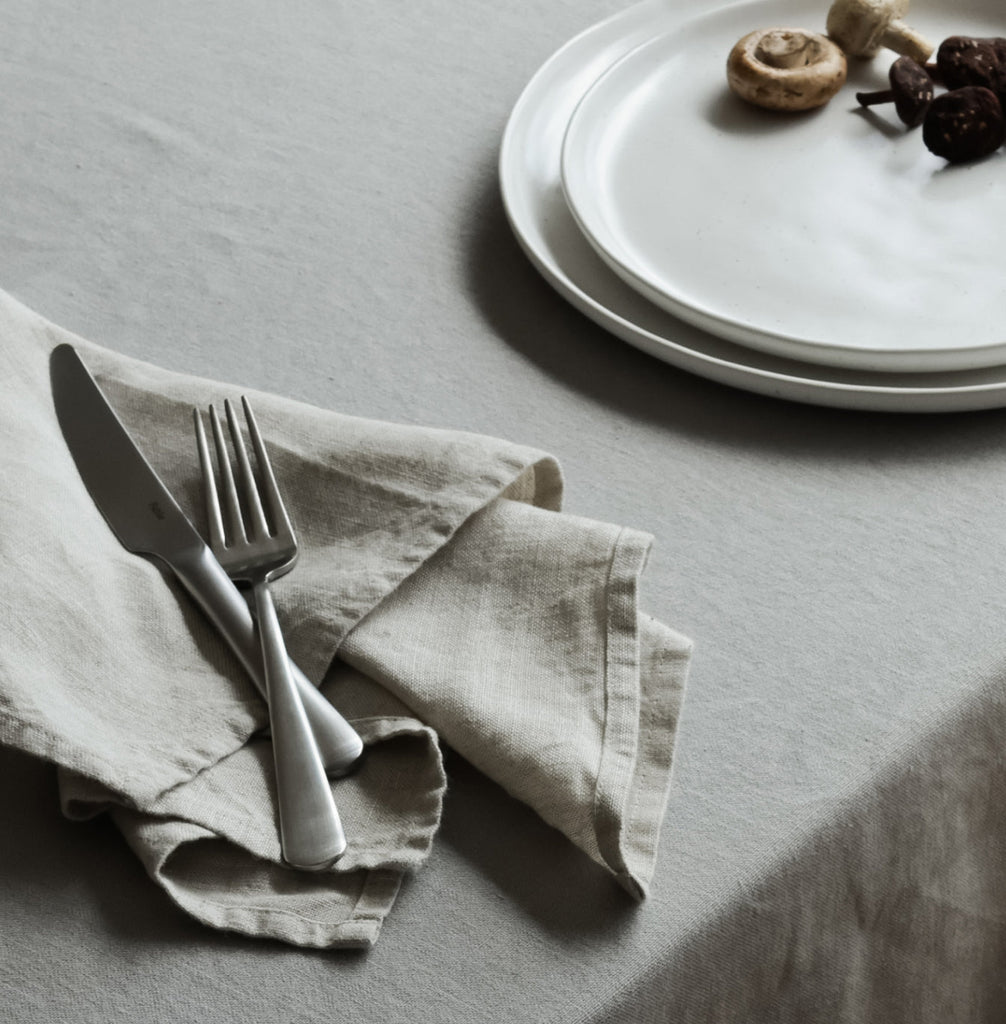 Textiles Care
Our textiles are woven in Belgium from 100% pure linen, one of the strongest natural fibers on earth. Its durability makes it fit to stand the washer, dryer, and iron—and it's one of the few textiles that actually gets better with age, taking on a buttery softness after each wash.
Pro tips
Before placing it in the washing machine, unfold your linen completely. Choose a mild detergent, and avoid the use of chlorine bleach. Wash at a maximum of 104°F (40°C).
Line drying is best for your linen and the environment, though it's also fine to go in the dryer. For best results, dry on medium heat, and be careful not to overdry. Note that linen may shrink up to 3% in the dryer.
Linen is known for its natural tendency to wrinkle. To restore its smooth, uniform surface, iron slightly damp linen with steam, preferably on the inner face of the fabric.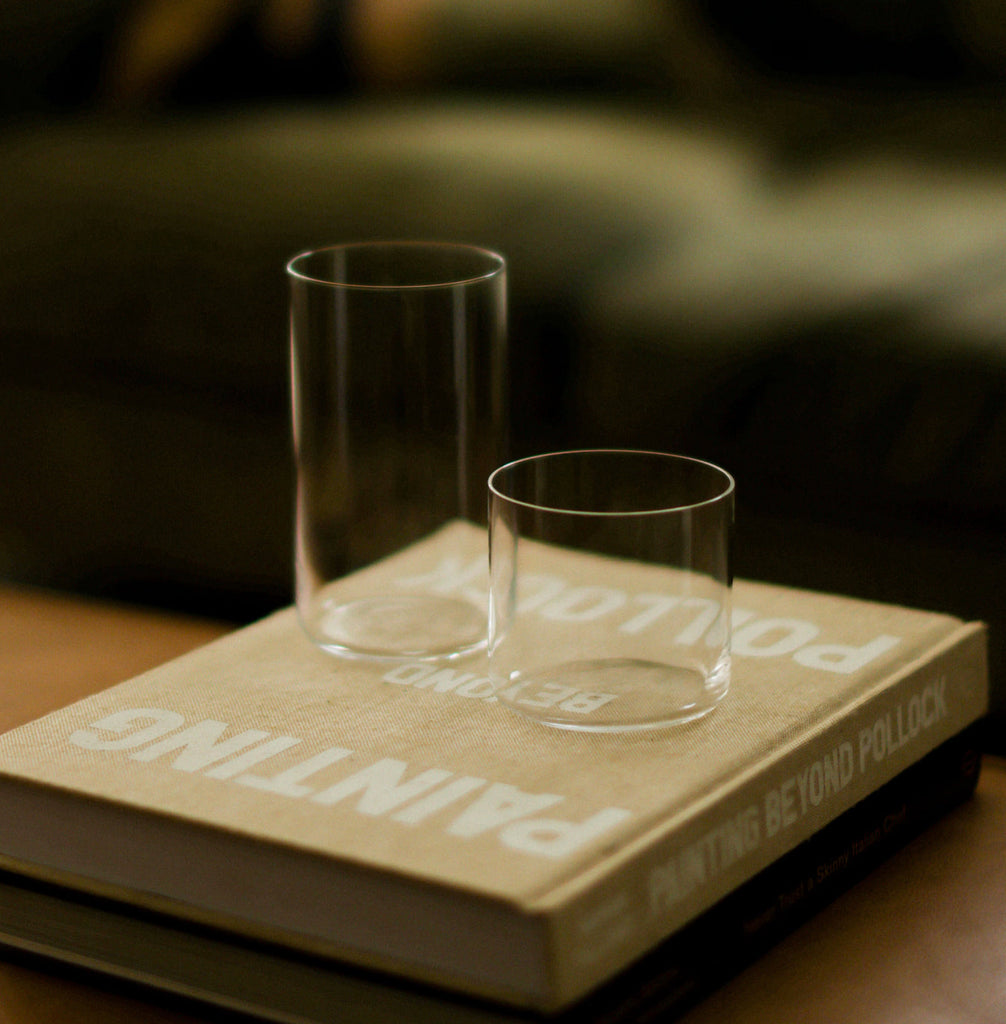 Glassware Care
Our glassware is crafted in Japan using a special ion-toughening technique, making it 1.6 times stronger than non-toughened glassware. It's also scratch resistant, and completely dishwasher safe. If handwashing is more your thing, that's perfectly fine as well.
Pro tips
When washing by hand, always choose a soft, non-abrasive sponge—that way, you'll protect your glassware from scratching to keep its ethereal shine. Wash with hot water and a mild detergent, and dry with a soft cloth.
In the dishwasher, gently place your glassware upside down on the top rack, and leave ample space around each piece to ensure that nothing is touching. Glassware likes a little breathing room to prevent it from scratching.
To keep your glassware looking its best, use a quality dish detergent and a rinse aid (or white vinegar) in your dishwasher. If a dull, cloudy film forms on the surface, it's caused by mineral deposits from hard water. Try soaking it in plain white vinegar for 25 minutes to 2 hours, then apply a soft brush or cloth in a circular motion to gently remove the stains. Rinse off any residue, and dry with a lint-free cloth to revive its optimum shine.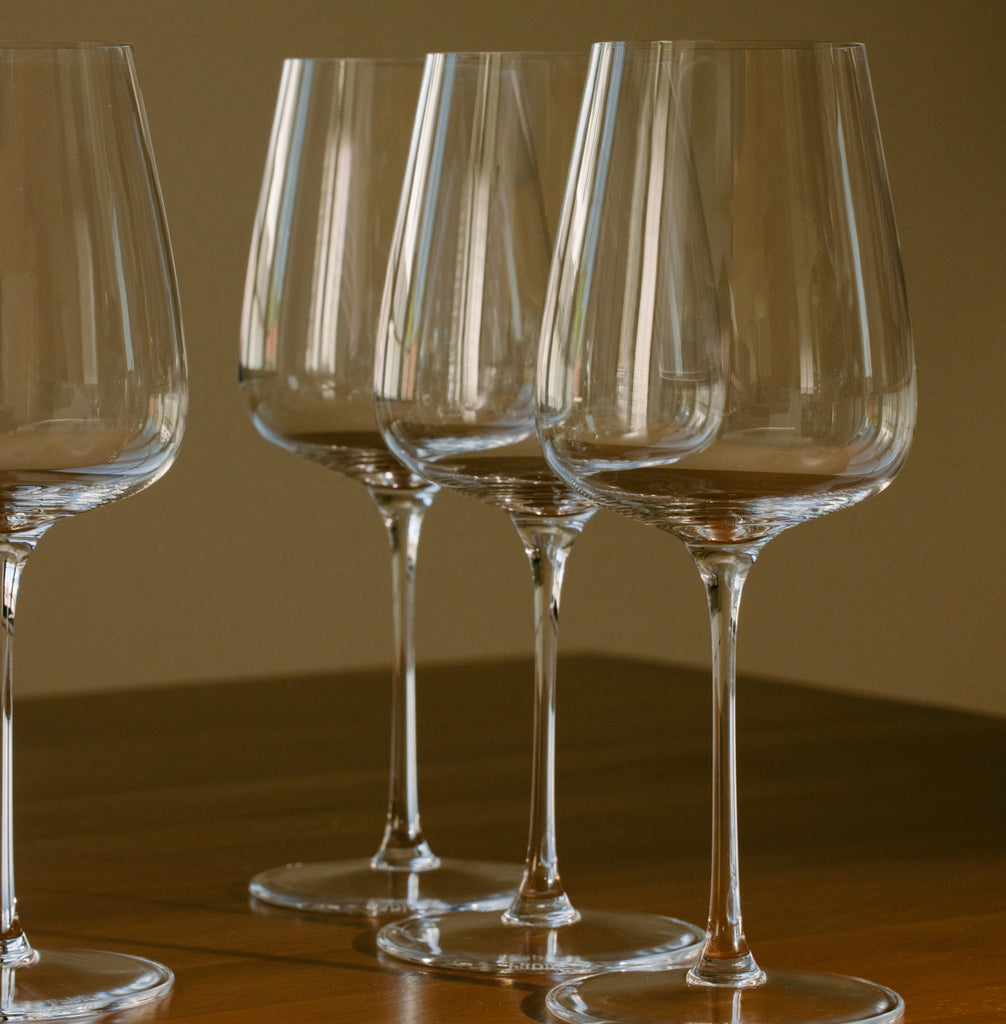 Stemware Care
Our stemware is made of high quality clear crystal that's toughened for superior durability, making it 100% dishwasher safe. Each piece can also be washed and dried by hand.
Pro tips
In the dishwasher, gently place each glass upside down on the top rack. Like all of our glassware, make sure to leave enough room around each piece to prevent breakage.
When washing your stemware by hand, use hot water, a mild detergent, and a soft, non-abrasive sponge to prevent scratching and preserve its brilliance and clarity.
When drying by hand, be gentle. Use a soft cloth, and avoid holding the glass by its stem or base as this can—in extreme cases—cause the stem to break at its narrowest point if too much pressure is applied.
Wood Care
Our wood products are crafted from European ash wood that's heat-treated to draw out excess moisture, making it more durable, stable, and lightweight—all while limiting moisture absorption to prevent warping over time. With proper care, they'll last for years to come.
Pro tips
To preserve the longevity of your wood pieces, gently wipe clean with a soft sponge or cloth soaked in warm (not hot) water, and dry thoroughly. Avoid soaking in water, placing in the dishwasher, or using harsh detergents—these can strip the wood's natural oil treatment and eventually cause it to warp.
To maintain its finish and prevent it from drying out over time, treat The Serving Boards with a food-grade seed oil or wax that's colorless and odorless. For best results, apply to all sides when the wood is completely dry, and it should soak in beautifully.
While they make perfect cheese boards, The Serving Boards are not intended for use as cutting boards. Note that sharp knives may damage their surfaces.
The Tawashi Brush
This durable tool is not only a kitchen cleaning staple, are fully biodegradable, too. When used in combination with a scouring powder, the Tawashi Brush works wonders at removing superficial marks from ceramics. It also cleans root vegetables like a pro. Just be sure to always rinse, drain, and air dry the brush after use.