Four Female Chefs That Ignite Inspiration
By KATIE NANTON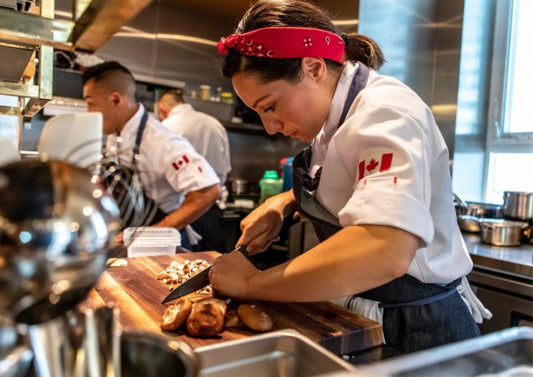 Social change and the pursuit of equality in the restaurant industry is a deeply layered process. It's often gradual, or it moves at a snail's pace; most women in the food business, especially those working in it for over a decade, will attest to that. This year, to honor International Women's Day, we're chatting to four gifted Canadian female chefs who are wielding their culinary skills to create community and spread deliciousness, near and far.
Photo by Eva McMillan
Claire Livia Lassam
Livia - Vancouver, B.C.
A lifelong baker, Claire Livia Lassam is the female force behind Livia, a busy bakery-restaurant on Commercial Drive in East Vancouver, which she co-owns with her husband, Jordan Pires. The name pays homage to Lassam's Italian nonna, and the beloved spot draws crowds clamoring for its house-made lasagna and pasta, as well as the ever-changing bread and pastry menu. (Earl Grey blood orange danish, anyone?) To keep things fresh, Lassam holds weekly brainstorming sessions with her bakers and changes up ingredients seasonally. She's already eagerly anticipating the bounty that comes with a West Coast summer. "I've always found farmers' markets to be the most inspiring places in the world," she says. "I get embarrassingly full of joy."
Q: What are you excited about cooking with right now?
A: Basically all I eat this time of year is Swiss chard. It's a perfect vegetable and it, mercifully, grows throughout the winter in Coastal B.C. I cut the stems and sauté them in olive oil, then add in the ripped leaves with a squeeze of lemon and cook them just until they're tender. This is glorious tossed with pasta, served with olive oil-y white beans, or cooked into a frittata. Most of all I love it floating in chicken broth with some orzo pasta. Heaps of parm grated on top, and a drizzle of good olive oil? Just try to find me a more satisfying dinner.
Q: How did you carve your niche in a male-dominated industry?
A: I remember being embarrassed when I was starting out in fine dining restaurants that I only wanted to open a cafe, but it's all I've ever wanted. I always knew that a life devoted to night service and the boys' club was going to get old for me, and it did. All those boys—and I love them, I do!—looked at me like I was nuts when I explained that I wanted to open a bakery-restaurant that served organic ingredients for under $20 a plate. But every woman I [told]... Their eyes would light up! I own a very feminine restaurant. It's not pink, and I employ lots of men, but women connect with it in a different way. I think our industry is so catered towards men, and it pushes so many women to the side. A byproduct of that is that the experience in restaurants often is designed for men, too. I wanted a space that feels cozier and warmer than all the places I know that dudes own.
Q: Is there a female mentor who impacted your culinary career?
A: Mary Macintyre-Ly. I worked for her at her brilliant (and tragically now closed) cafe, Little Nest. Mary was a fine-dining pastry chef who, after having kids, realized there wasn't a place for her with work-life balance in the industry she'd spent a decade building a career in. There was also no place great to take her kids where she actually wanted to eat the food. So, she created the coziest spot that was unpretentious, but served beautiful food made with great ingredients. She taught me that a perfect dining experience could be in a cafe, that a cafe could use local organic farmers and still keep their meals affordable, and she showed me that a workplace could push you without making you feel small... She nurtured community in a way I'd never seen before, and it changed my outlook on what was possible.
Photo by Théo Cohen
Maria-José de Frias
Le Virunga - Montreal, Que.
Fine dining restaurant Le Virunga is in the heart of Montreal, and at its helm is Maria-José de Frias. The executive chef and co-owner is originally from Congo, Kinshasa, and also lived in Brussels, Belgium, before moving with her two children to Montreal in 2007. After earning her culinary degree and working for a few years, she opened up the intimate Le Virunga with her daughter, Zoya de Frias Lakhany. Their Pan-African cuisine deftly blends traditions from the continent into dishes that delight; think mofo sakay (a spicy bread from Madagascar) waffles served with herb-roasted vegetables and pili-pili yogurt, or Sabinoise guinea fowl richly dressed with coconut and smoked cream cheese. De Frias taps into her roots for culinary inspiration, but also looks to her customers: "I always ask myself what positive experience I can bring to them from my culture," she says. "And I carry a notebook with me for creativity—sometimes a conversation, a place, a situation can bring me an idea for a recipe."
Q: Is there a female mentor who impacted your culinary career?
A: Unfortunately, back in the days, there were not many women in the industry. My teachers, mentors, and chefs that were inspiring me were mostly males. I believe it is one of the reasons why I decided to start my own adventure: where I am from, the kitchen has always been a woman's territory. Since I have always been surrounded by males, I believe it pushed me to work twice as hard every day.
Q: How did you carve out your niche in a male-dominated industry?
A: I do not know if I created a niche, I just wanted to share my culture through my cooking. It has been challenging at times because not only I am a female chef, but I am also a woman of color. We've had customers assuming I was a man, or that I was a cook, not a chef. We were very discreet about our relationship with my daughter because a mother-daughter duo sometimes may look "unprofessional"—as if I was just cooking at home and decided to start a business the next day.
Q: What's a new recipe that you've been excited about recently?
A: I am always excited about every new recipe! As part of the Montréal en Lumière festivals, we are showcasing different ways to cook "mutton" (aged/adult lamb). One of the dishes is a locally sourced mutton sausage with oysters mushrooms, served with a date cream and mashed rutabaga. My staff absolutely loved it!
Photo by Noah Browne
Kiko Nakata
Miku - Vancouver, B.C.
West Coast-born Kiko Nakata sharpened her skill set on three continents before landing the role of head pastry chef at Vancouver's celebrated Aburi sushi restaurant, Miku. There, Nakata infuses her talent and cultural heritage into delicacies like Coconut Lime Leaf Mousse and Green Tea Opera Cake with azuki bean cream. Guided by her culinary training at Le Cordon Bleu London, Dominique Ansel Bakery in Tokyo, and Thomas Haas in Vancouver, Nakata also acknowledges the many female figures that have supported her pastry path: "I wouldn't be where I am without the women in my life lifting me up, and pushing me to be more than what I thought I could be."
Q: How did you make your place in a male-dominated industry?
A: It's been a long road to feel like I've created a space for myself in this industry, and my younger years in the kitchen were spent shuffling through different ways to feel like I belonged. The only way I felt both like myself, and like I had a place in the culinary world, was when I stopped trying to be "one of the boys" and leaned into all the ways that set me apart. I stopped being embarrassed about being gentle and compassionate, and now that's one of the things my team appreciates most about my leadership style.
Q: Making pastries can be very precise, but also highly creative. How do you carve out space for that creativity and inspiration?
A: Finding the time and mental space to be creative can definitely be difficult. I've learned to jot down any idea, no matter how small, because they can slip away from you. Then, I like to piece them together into something that I think might come together well.
Q: Are there any recipes you've particularly loved testing recently?
A: I've been loving changing up the flavours for the Castella cake [a type of Japanese sponge cake] that I make for our sister restaurant, Gyoza Bar. The base recipe is so simple and good, it's always fun trying new seasonal flavors as it can make it feel like a whole new dessert.
Tania Ganassini
Niagara-on-the-Lake, Ont.
Classically-trained professional chef Tania Ganassini is a recipe developer, Top Chef Canada alum, and on-camera/video host of My Niagara Experiences who spent her early years cooking in fine-dining and Michelin-starred restaurants. The plant-based chef candidly recounts the challenges she faced in some of those male-dominated kitchens: "I have been patronized, shamed, and not taken seriously," she says. "The misogyny runs deep." On a brighter note, Ganassini says the industry is better now than it was 8-10 years ago. Seeking out projects and partnerships that incite positive change have been a major motivator for her. "Identifying and focusing on what matters to me as a chef and human being is what propels me forward." Ganassini's current kitchen obsession? A pillowy-light apple streusel cardamom coffee cake—more on that soon.
Q: How did you carve out your niche in a male-dominated industry?
A: I stopped waiting for permission and opportunities. I leaned into my natural skill set and proclivities, like holistic nutrition, and plant-based cooking. I still contend with my own demons and self doubt, even after 15 years of cooking professionally. Going to therapy and identifying the root cause of the self doubt (which has nothing to do with my actual worth), has been helpful. I prioritize my mental health, which means saying no to projects that don't feel aligned, moving my body, journaling, being in nature, and reducing my consumption of caffeine and alcohol.
Q: How do you make space for yourself to be creative, and where do you go for inspiration?
A: Time away from social media is crucial. Travel and dining out is always inspiring. Local farmers and their produce lights me up. Digging through old cookbooks, and learning from chefs and recipe creators from diverse cultural backgrounds are also some of my favorite ways to ignite my creative spark. I take advantage of moments of creative flow by writing down every single idea the moment it comes to me, and referring back to it when I need to develop a recipe. Also, I love following Alissa Vitti's advice on following my monthly cycle (she calls it the infradian rhythm) to tap into the creative potential available at various times of the month.
Q: Is there a female mentor who impacted your culinary career?
A: Yes! Chef Deborah Reid was one of my instructors in culinary school, and for the first time, I felt seen and believed in as a young cook. Chef Reid recommended two classmates and I for a food stylist internship on Anna Olson's TV show Fresh, which solidified my love of food media and food styling. The women we worked with on set were brilliant, kind, and generous with their time and knowledge. I still call on those experiences in my work today, and am forever grateful for that opportunity.
Q: What's a new recipe that you've been excited about recently?
A: My sweet tooth has been raging lately, and I love creating slightly-more-nutrient-dense versions of my favorite sweet treats. I've been testing an apple streusel cardamom coffee cake that is gluten-free and vegan, and my husband and I are addicted to it. It's sweetened with less-refined sugars like maple and coconut sugar, has a moist pillowy interior, and a satisfying crunch from the buttery topping. Now I'm craving it badly…
*Interviews have been lightly condensed.